Alexia Riley
Next Door Amateur
One horny guy travels the world for sex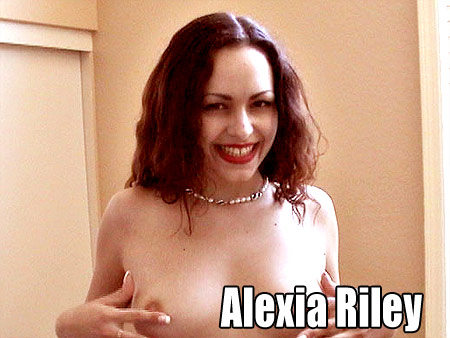 | | |
| --- | --- |
| | |
Star Info: Implants: No. Plan to? No. Piercings: Ears. Tattoos: One on butt. How long have you been in the business? "I just got back in really recently, about two weeks ago. I'm 19 now, and I started back when I was 18, and I was only in it for it for a few weeks." How do you like the business? "The money's good, and I like sex. I'm a horny little girl." We you horny to begin with, or were you horny when you got into the business? "I'm horny to begin with, but I can get more horny once I'm there and if I'm having fun, and I can cum on cue." (Laughs.) Are you a kinky little girl too? "I can be. Sometimes I like to be spanked, and my hair pulled... I had a big orgy once in my free time. There was about 12 people. I didn't do everybody, but we were trying to fit on the same bed. It was pretty kinky." Who have you worked for? "I've worked for Anabolic, Hustler, Kick Ass Pictures, Ed Powers. I haven't done a whole lot, and I've done only one girl/girl movie. I like girls." Do you want to do more girl/girl stuff? "It doesn't matter so much - since people like to do by/girl, I've never really been asked to do girl/girl [that much]." How long do you see yourself in the business? "As long as people want to hire me.... I like doing it, and as long as I'm making good money and working with good people I'll stay." Who would you like to work with? "I don't know... I'm pretty flexible.
Age: 20
Height: 5' 8" - 173 cm
Weight: 52 kg - 114 lbs
Measurements: 34B-23-35
Has been featured on the following sites:
Amateur Creampie - I met Alexia at the AVN show earlier this year and she was not all that sure if she wanted to be an adult model. However, we kept in touch, and she came to California to visit for a few days. She decided she was ready to fuck on camera, so we did it. This girl gives the *most* amazing blow jobs because she can actually suck cock and tongue your balls at the same time. Not only that, but I find her extremely sexy, and is one of my all time favorite girls. I was so excited I blew a really big load inside of her, plus I had been saving my cum for this babe.