Destiny
Next Door Amateur
One horny guy travels the world for sex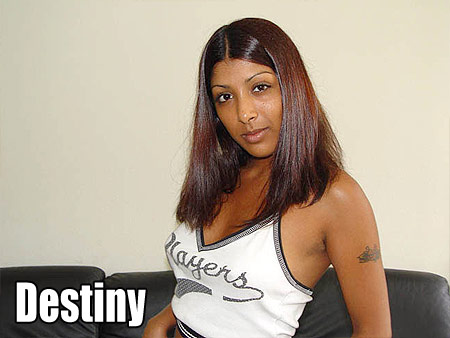 Destiny is the first Indian girl I have ever done in my life. With her, I can finally say that I have creampied everybody. I always wondered if the day would come for me to hook up with an Indian girl since thy are so hard to come but I finally lucked few weeks ago when a member of the site gave me a tip on where to find Destiny. Basically, I met Destiny thru an adult modeling agency which I never use to meet my girls. But on this occasion, I did because there was no other way for me to meet her.
Age: 19
Height: Unknown
Weight: Unknown
Measurements: Unknown
Has been featured on the following sites:
Amateur Creampie - Destiny is on holiday in the US and she is from the UK. And while here she decided to try out being a porn star since she said she wouldn't do this back home. She is in college and back home she is daddy's little good girl. So I hope her daddy (or her boyfriend for that matter) is not a fan of creampies, otherwise Destiny might end up moving to the US permanently as their culture is on the strict side when it comes to fucking around on camera.