Elizabeth Del Mar
Next Door Amateur
One horny guy travels the world for sex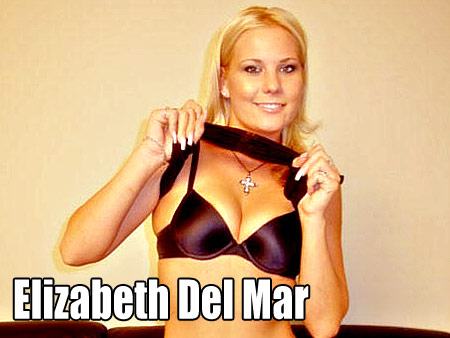 I've always been very wild and into partying. My parents are very tame. They got married, have been married, never divorced, never separated; just me and my mom and dad and my sister." Do They Know About Your Porn Career? "They know I'm a model. They don't know, but I'm sure they will eventually, and I'll burn that bridge when I come to it, or build it or something." Education: "I finished high school. I start college in the fall. I'll be majoring in law."
Age: 19
Height: 5'8" - 173 cm
Weight: 59 kg - 130 lbs
Measurements: 34B-23-34
Has been featured on the following sites:
Amateur Creampie - History: "I was a dancer. I worked in a medical group, and I worked at a flower shop." First Sexual Experience: "When I was 18. I've had sex with more people on camera than in my personal life." Favorite Sex Act: "I really like giving blowjobs, I think." First Feature: New Girls In Town (Wicked Pictures) Most Recent Feature: Purely 18, Vol. 1 (Blue Horizon Video Productions) Philosophical Rumination: "I grew up fairly poor, and I started making a lot of money once I started dancing and I got into this business, and it's totally not what I thought it would be like. I was trying to explain to a friend yesterday that money isn't happiness. I'm truly not in the business just for the money, even though a lot of people are, but I found that when I was working, that's when everybody would call me; they'd be like, 'Hey, what are you doing?' Then, when I had free time, everybody else was busy, so I learned you can have all the money in the world but it doesn't make any difference if you don't have friends to share it with."