Emy
Next Door Amateur
One horny guy travels the world for sex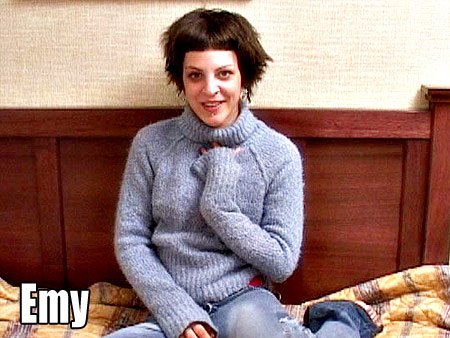 Emy is a girl from NY. She has more of an unorthodox look and she is into the whole raver/ goth chick thing. I met her thru a friend that is into that scene and our first meeting was at a club. She really fun and playful, and we set up this shoot the day after. I told her about what I wanted to do and she was concerned because she doesn't use birth control. However, it was at a safe time in her cycle so she said yes to me but asked me not to tell her boyfriend about me cumming inside of her. Her boyfriend knows that she models but doesn't really know all the details.
Age: 19
Height: Unknown
Weight: Unknown
Measurements: Unknown
Has been featured on the following sites:
Amateur Creampie - It was snowing a lot outside when she came the next day and she was all wet from the snow. And for some reason, I started getting turned on looking at her in her winter clothing (don't ask me why), so I made out with her first and then asked her to suck my cock with her clothes on. She went for it and got me really hard with her mouth. I asked her to take her clothes off to show off her body a little and then she got on her knees to suck me some more and then I turned her around and fuck the living lights out of her. "You like fucking my wet pussy, don't you?" she said, and that moment I kinda lost it and came a bit inside of her. However, I kept of fucking her for quite some time until I finally came really hard inside her tight wet pussy. I shot it deep inside so it took a while to drip out, but a lot came out when it finally did.