Jewel
Next Door Amateur
One horny guy travels the world for sex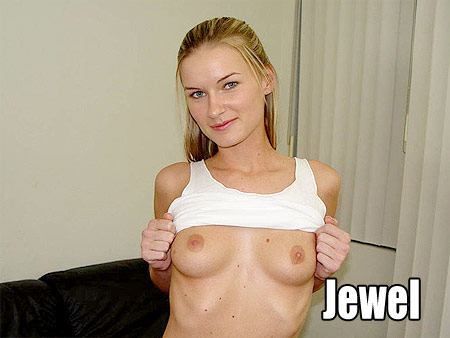 Jewel is Britney Jay's cousin who is also from Florida. When Britney called me to let me know her cousin was going to visit LA and that she might want to be on the site to try it out, I was very excited. I had seen pictures of her and Britney before so I knew she was hot. But since I didn't really know her, I had to wait until she came out and talk to her and she if she wanted to try this website deal. And when I finally met her, she turned out to be a really sweet girl who at the same time loves to fuck a lot. Britney had told me she was a horny girl but I just couldn't guess by looking at her pictures.
Age: 18
Eye Color: Blue
Hair Color: Blonde
Height: Unknown
Weight: Unknown
Measurements: Unknown
Location: Florida
Has been featured on the following sites:
Amateur Creampie - I took some pictures of her and would fuck her in between taking pictures and then I just started to roll camera. Jewel has a nice tight pink pussy that wrapped around my cock just perfectly. In fact, she was so tight I could even feel it when sticking my finger in her. Anyway, I started fucking her on my couch for a while and then I ended up fucking her some more in my bedroom where we both came several times. She was afraid of getting pregnant so she started to take pills just a few days before but before me she said she would never let guys cum in her.