Loni
Next Door Amateur
One horny guy travels the world for sex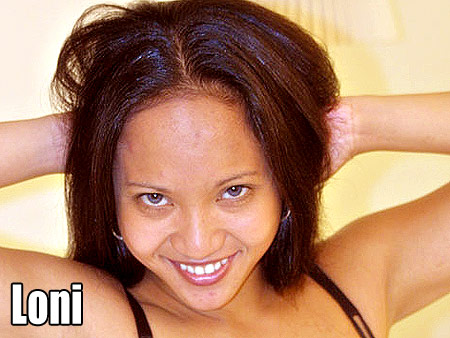 | | |
| --- | --- |
| | |
Star Info: Boob job?: "No way! It's all priceless." Tattoos or piercings: None. What did you do before porn?: "I was in the US Air Force where I was training to be a medical assistant and a year before I joined the industry, I was working as a medical assistant in a doctor's clinic." How many videos have you done?: "I have only been active since February…Close to 30." Some of those titles are: Smokin' 5 and Kung Fu Girls 3 for Kick Ass Pictures, Raincoaters Point of View #1 and Straight to the A #2 for Red Light District and No Man's Land: Asian Edition 4 for Video Team. What do you like about performing?: "I like the people and sexually, I like to be watched." What has been the best performing experience you have had so far?: "No Man's Land: Asian Edition 4. For me, it was something different because I had only done two or three girl/girl scenes. That video is my favorite." Does your family know about your career?: "Ummm…no. Sssssh, whoever is reading this- don't tell them! You have to keep it quiet, okay?" Long range goals?: "I would like to do this part-time, build up my website (not up yet) and use my GI Bill to go back to school and study stenography."
Age: 23
Height: Unknown
Weight: Unknown
Measurements: Unknown
Has been featured on the following sites:
Amateur Creampie - Loni is a girl I know from Las Vegas. She has been doing adult modeling for a while and she asked me last time I was in Las Vegas to "help her out" with some shoots, so I volunteered to fuck her and unload in her. One of the best things of having an adult site is having girls asking if me if I can go fuck them.