Natalie
Next Door Amateur
One horny guy travels the world for sex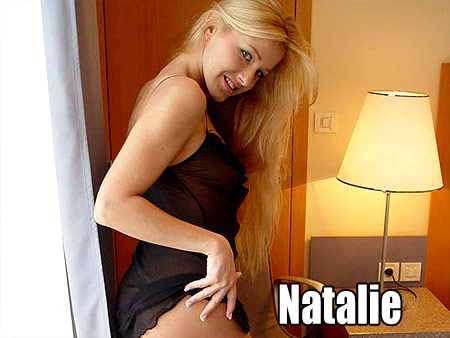 Natalie is a hot chick I met thru one of my ads for models on the internet. She had replied to me a long time ago but when I was in Europe in the summer she was on vacation in Italy. So on this trip, we finally got to meet.
Age: 21
Height: 156 cm - 5' 1"
Weight: Unknown
Measurements: 36B-26-36
Has been featured on the following sites:
Amateur Creampie - Natalie has a nice beautiful pink pussy and hot body and fucking her felt really good. In fact, I almost nutted in her in the first five minutes. But I slowed down my pace and fucked her slowly for a while but after 30 minutes, I couldn't stand it anymore and I had to cum inside that wet pussy. I had been fantasizing about it for months and actually doing it was an achievement for me.. man I wish I lived in the middle ages when harems were permitted. I would have hundreds of chicks like her and would knock up each one of them.