Sophie - New Porn Star
Next Door Amateur
One horny guy travels the world for sex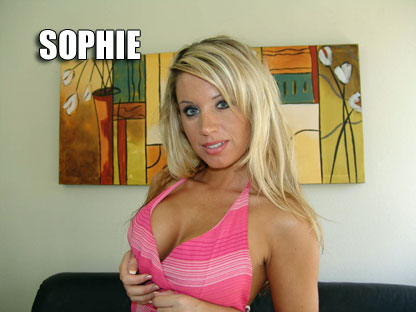 Sophie is a blonde with nice tits and a tight hot pussy ready for creampie.
Age: 23 yrs. old
Measurements: XXX
Weight: 110 lbs (49 kg)
Height: 5 ft 6 in (167 cm)
Location: Florida


Has been featured on the following sites/blogs:
Amateur Creampie - Sophie is a hot babe I met over the internet after one of the members of the site forwarded me her profile online. She had done some webcam stuff and the pictures I saw of her were really hot, so I started to email her and engage her in a chat. I told her I really wanted to feature her on my site but she was hesitant because she was afraid someone she knew would find out. Which is perfectly understandable. However, I told her if someone saw her on my site, they would be as guilty for looking at it in the first place. So she thought about it and we ended up meeting on my last trip to Florida in person. Once I was able to talk to her face to face, she felt much better about it so she told me she would think about it. <more>.