Tracy Olsen
Next Door Amateur
One horny guy travels the world for sex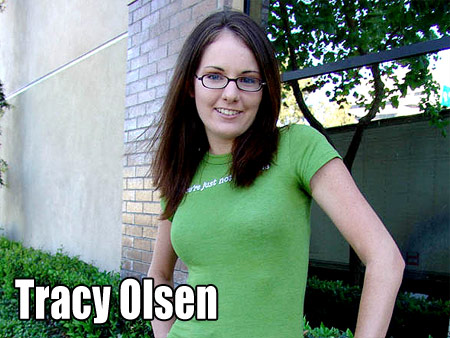 Tracy is a college girl (who goes to my old school coincidently) that contacted me about being a model for my site. She sent me couple of pictures taken with a webcam and I was glad to hear she was close by so that I way I could interview her and "audition" her. One of the best things about having an adult site like mine is that I get emails from girls from all over the world. Sometimes people ask me how I find girls and the answer lies in my site's reach.
Age: 18
Eye Color: Blue
Hair Color: Dark Brown
Height: Unknown
Weight: Unknown
Measurements: Unknown
Location: Los Angeles
Has been featured on the following sites:
Amateur Creampie - So I met up Tracy near her dorm at a coffee shop where I used to study all the time in my college days. We had a good conversation and we hit it off right away and so she went back to her room to get some things and we headed back to my place. She said she found my site searching on adult sites and that she enjoyed the idea of being a feature girl. Tracy had never done anything like this and the idea excited her, specially since she is considered "bookish" and quiet. This to her was sort of like her chance to cum out and show everyone her sexual side.