Victoria
Next Door Amateur
One horny guy travels the world for sex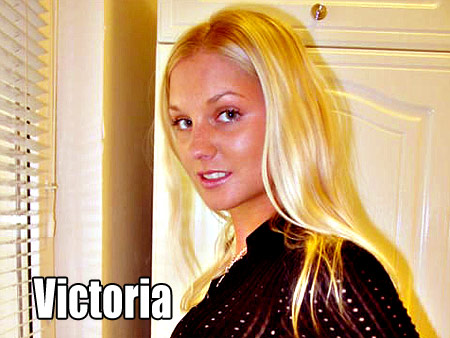 Victoria is a beautilful European girl I met on my recent vacation to Europe. She is adorable and the best part is that she loves to fuck! she has an awesome body and a great pussy too.
Age: 18
Height: Unknown
Weight: Unknown
Measurements: Unknown
Has been featured on the following sites:
Amateur Creampie - She starts to tease me and pose for the camera showing off her hot body. She then pulls out my cock and starts sucking on it, she kept on looking up at me while she had my cock down her throat and I just loved it. I then got her on the bed and started fucking her in all kinds of positions. I was not really planning to do any videos in Europe so I shot this without a tripod and by myself, which made it a bit harder but I think you guys can get the essence of how hot Victoria is.