Yasmine - Featured Porn Star
Next Door Amateur
One horny guy travels the world for sex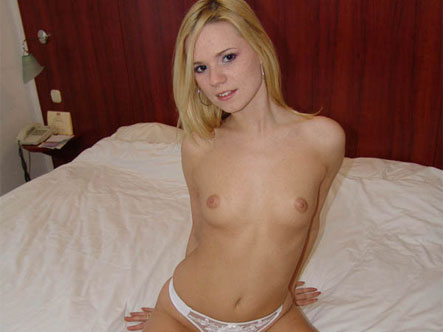 Yasmine is a cute hungarian with nice hot pussy suitable to squezze a creampie and huge loads inside her.

Age: 20
Measurements: 34B-24-34
Weight: 110 lbs (50 kg)
Height: 5′6″ (168cm)
Location: Hungary
Birth Place: Hungary
Birth Date: 1985-10-22

Has been featured on the following sites/blogs:
Amateur Creampie - Yasmine is an experienced adult actress in Hungary and she has been in a number of movies mostly in Europe. She is actually on the shy side and she is one of those types that one could not tell that she is a sexual performer at first glance.
She is from a small city just outside of Budapest and on this day she came all the way to my place to meet me and to get a creampie inside her pink pussy. I liked how soft her skin was and how she was built. I got her naked almost right away so I could take pictures of her and while snapping my pics, I got hard just looking and imaging my cock inside her. I started to rub her pussy with my fingers and then I started to rub my cock on her pussy lips and ass. She started to get wet a little and I started to go down on her pussy to taste it. She was nice tasting pussy and I could taste her juices starting to flow out while I had my tongue inside her. She then turned around and wrapped her warm pink lips around my cock and I am sure she could taste the pre-cum cumming out of my cock. I then turned her around and shoved my cock deep inside her pussy. First I started to fuck her slow so she could feel it well and then I started to pound her. I fucked her in several positions and fucked her all afternoon until she had to leave to catch her train. I came inside her couple of times and I almost came a thrid but after the second cumshots, I was finding it hard to cum. But I enjoyed fucking her pussy full of my luv juice and seeing her enjoy that cum inside of her.